Courtney Eaton (born 6 January 1996) is an Australian film actress and model. She is known for her role as Cheedo the Fragile in the 2015 film Mad Max: Fury Road and Zaya the 2016 film Gods of Egypt. She is currently dating Ross Lynch.
Early Life
Edit
Courtney Eaton was born in Bunbury, Western Australia. She studied at Bunbury Cathedral Grammar School.Her father, Stephen Eaton, an IT manager, is Australian, of English descent, and her mother is a New Zealander, of Chinese,Maori, and Cook Islander ancestry.
Courtney was spotted by Christine Fox, head of Vivien's Models, in a fashion graduation at age eleven. Fox signed up Eaton with her father's blessing and prepared her to model at age sixteen. She took part in an acting workshop with Myles Pollard as part of her modelling development, and auditioned in Sydney for Mad Max: Fury Road (2015). Eaton landed a part and co-starred in the series as Cheedo the Fragile, one of the five wives of Immortan Joe in the film. Of her part, Eaton said that Fragile is "the youngest of the [five] wives"
Eaton co-starred in the fantasy action film Gods of Egypt (2016), as Zaya, a slave girl and love interest of the main character (Brenton Thwaites), appearing alongside Gerard Butler and Nikolaj Coster-Waldau, under Alex Proyas' direction
Personal life
Edit
Ross Lynch
Edit
Courtney and Ross have been in a relationship since March 2015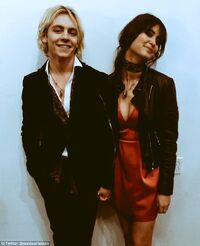 The two, under the same management, met at one of R5's LA shows. They spent time together, and began dating soon after, keeping their relationship secret for a while. Rumours about the secret couple developed after several videos were released of the two kissing and holding hands. Ross confirmed the relationship in mid- 2015 on his Instagram by posting a picture of him kissing Courtney. They have been maintaining a - part long distance relationship ever since
Most recently, Courtney has joined Ross and the rest of the Lynch family for Thanksgiving, Christmas and New Years. She also surprised Ross for Valentine's Day