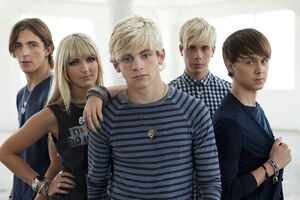 The following is a list of R5 facts. Some of these facts has been originated from  here. When adding new facts, please make sure that they are true and reliable.
The youngest member of R5, Ross, starred in Disney Channel sitcom Austin & Ally as Austin Moon.
Blonde is the natural hair colour of the Lynch kids and Ratliff is a natural brunette.
Before the Lynchs moved to Los Angeles to pursue their musical and acting aspirations, they were once normal kids living in Littleton, Colorado. It was Riker's idea to move out to LA to follow in the footsteps of their famous cousins, Derek Hough (Dancing With The Stars) and Julianne Hough (Footloose & Ryan Seacrest's ex-girlfriend)!
Disney is where Ross and subsequently, the remainder of R5 found fame. Being with Disney has given the band many opportunities such as getting signed to a record label and gaining publicity from Radio Disney.
Riker has a recurring role as Jeff on FOX's hit TV series Glee! His character is a member of a glee club called the Warblers, the rivals of New Directions.
In 2012, R5 found a home in Hollywood Records. The Disney-owned record label represents some of the world's biggest stars such as Selena Gomez and Demi Lovato. With Hollywood Records, the band released an EP titled Loud in February 2013, with their debut album Louder slated for release on Sept 24, 2013 as a follow-up.
The band is addicted to image & video-sharing social networking site Instagram.
Rydel Lynch bandmate is Ellington Ratliff's long-time girlfriend.
Rydel and Ellington Ratliff's couple ship name is "Rydellington".
The band members can always be seen wearing R5 guitar pick necklaces
officialR5 is the band's official name on Facebook, Twitter, Instagram.
Pink is pretty much the unofficial official colour of R5. Their logo is pink and Ross and Rydel almost always have something pink on them.
The group visited the Buckingham Palace when they were in England for their mini-European tour.
Ryland is the youngest Lynch kid and he helps out with the management of the band.
Ad blocker interference detected!
Wikia is a free-to-use site that makes money from advertising. We have a modified experience for viewers using ad blockers

Wikia is not accessible if you've made further modifications. Remove the custom ad blocker rule(s) and the page will load as expected.