The R5 Rocks the World tour is R5's 2015 world tour. Fans were able to help choose tour dates by going on R5rockstheworld.com and voting for the places they want R5 to come to.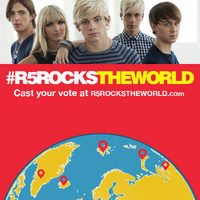 This is the top 25 most voted for cities:
25. Minneapolis, USA
24. Bogotà, Columbia
23. Lima, Peru
22. Milan, Italy
21. Philadelphia,USA
20. Monterrey, Mexico
19. Toronto, Canada
18. Còrdoba, Spain
17. Moscow, Russia
16. Instanbul, Turkey
15. Boston, USA
14. Lisbon, Portugal
13. Los Angeles, USA
12. Belgrade, Serbia
11. Mexico City, Mexico
10. Paris, France
9. Zagreb, Croatia
8. Chicago, United States
7. New York, USA
6. London, UK
5. São Paulo, Brazil
4. Santiago, Chile
3. Tel Aviv, Isreal
2. Warsaw, Poland 1. Buenos Aries, Argentina
Ad blocker interference detected!
Wikia is a free-to-use site that makes money from advertising. We have a modified experience for viewers using ad blockers

Wikia is not accessible if you've made further modifications. Remove the custom ad blocker rule(s) and the page will load as expected.