Ross Lynch

Information
Full name

Ross Shor Lynch

Born

December 29, 1995

Resides

Los Angeles, CA

Occupation

Lead singer for R5
Actor
Ross Shor Lynch (Born December 29, 1995) is 21 years old. He is an American songwriter/singer, actor and instrumentalist, singing and performing in his family band R5, and portrayed Austin Moon in the hit Disney Channel show Austin & Ally, where he sang frequently as its the requirement of his character. He also portrayed Brady in Teen Beach Movie and Teen Beach 2.
Early Life
Ross
was born in
Littleton, Colorado
, the fourth of five kids to
Mark
and
Stormie Lynch
.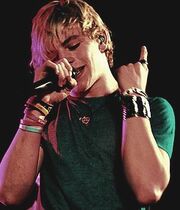 He and his family moved to California in 2007 to allow his brother Riker pursue a career as an entertainer. After the move, his brother Rocky taught himself how to play the guitar, and taught Ross how to play and Riker to play bass while their sister Rydel began to play the piano. They soon made the band R5 with a friend they met at a dance studio, Ellington Ratliff who plays the drums. Their band's website is r5rocks.com. He and his siblings are the cousins of professional ballroom dancers Derek Hough and Julianne Hough.
Career
Early Life/ Beginning of R5 (1995-2009)
Ross began to sing at a young age. Him and his band members always used to put on shows in the basement and charge their other family members $2 to watch them perform. Ross attended a music school in which he realised his musical talent. In 2009, Ross' older brother Riker decided to take music seriously so they moved to Los Angeles, which they soon starred in many short films and commercials. The band soon met Ratliff who they easily befriended. Ratliff became their lead drummer and Ross, Riker, his other brother Rocky, his sister Rydel and Ratliff formed a band called R5. R5 was born!
Ready Set Rock (2010)
Ross with his band R5 self released their first debut EP, Ready Set Rock on March 19th 2010. It included songs written by some R5 band member's themselves. Although the EP was removed from iTunes when Ross got the main role on Austin & Ally.
Austin & Ally (2011-2016)
Ross' moment of fame was when he landed the role as Austin Moon, the main male lead and main love interest to Ally Dawson, on Disney Channel's Austin & Ally. Ross got to resume his music career on the show and released three soundtracks with the series, Austin & Ally Original Soundtrack in 2012, Austin & Ally: Turn It Up in 2013, and Austin & Ally: Take It From The Top in 2015. Austin & Ally ended in January 2016.
Teen Beach Movie/ Loud/ Louder (2013)
Ross landed the role of Brady in the Disney Channel Original Movie Teen Beach Movie. The movie was filled with many musical dance numbers and dance and Ross got to perform many songs, including Cruisin for a Bruisin and Surf's Up.
With the band, R5 got signed to Hollywood Records, and released their debut EP Loud, which included the single Loud, on February 19 2013. This promoted R5's Loud Tour, which included tours to North America, UK and Australia.
R5 bought out their first official studio album, Louder in September 2013. It included their singles Pass Me By and (I Can't) Forget About You.
Louder (2013-present)
R5 conducted their first world tour.
R5 finally made their first album
Album Louder Release date: September 24, 2013
On July 10, 2015 R5 released their 2nd album titled Sometime Last Night.
In 2015, Ross reprised his role as Brady for Teen Beach 2 and guest starred in an episode of Girl Meets World.
On January 10, 2016 Austin & Ally aired it's series finale.
He voices the character Piers in the movie "Snowtime."
Bio
Even when he was a very small child, Ross had that little extra something, that charisma that attracted people to him. When he was three or four years old, he could often be found in a deep conversation with an adult, usually a complete stranger, that was captivated by his smile and energy and his unique ability to communicate with anyone. Today, that same attraction has shot him to the forefront of the entertainment industry, where Ross starred in the Disney show, Austin & Ally, which just ended with completing four season. Ross is the lead singer, and plays rhythm guitar with R5 and has co-written several original songs with the band. R5 is currently traveling all over the world on their 2015-2016 Sometime Last Night Tour. He's is currently dating actress, and model Courtney Eaton.
Trivia
His fan mail address is:
Ross Lynch
P.O. Box 280154
Northridge, CA 91328
Ad blocker interference detected!
Wikia is a free-to-use site that makes money from advertising. We have a modified experience for viewers using ad blockers

Wikia is not accessible if you've made further modifications. Remove the custom ad blocker rule(s) and the page will load as expected.