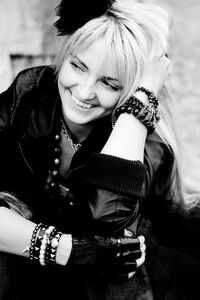 She is the only girl in the band.
Her favorite color is pink.
Rydel's favorite perfume is called Pink Sugar.
She plays keyboard.
Rydel is also known as the giggly one.
She covered: "Call Me Maybe", "Pour Some Sugar On Me", "Shut Up and Let Me Go" and "3".
She named her car Chubbs.
Her favorite bands are All Time Low and Neon Trees.
In an interview she said she was R5's secret weapon.
She's dating Ellington Ratliff.
She had her first kiss when she was 20. It was with her current boyfriend, Ellington
She was named after Rydell High, from the movie Grease.
Rydel has her own special edition magazine (From Girl's Life Magazine) called, "Rydel: Rock Your Life. Rydel wrote it with the help of Stormie.
Ellington is her first boyfriend.