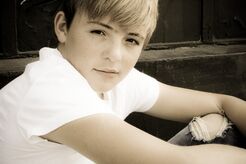 Ryland Lynch
(born 17th April 1997) is the youngest member of R5 but is definitely not known as the baby, he's more likely to be referred to as the manager or the boss.
Ryland always knows what he wants and how to get it. He has great drive and a unique ability to get things done.
He's also a busy working child actor, having recently been featured in the latest Kids Bop commercial and video with Sean Kingston. Ryland was also a series regular in a current Nickelodeon show, The Fresh Beat Band.
Ryland has always taken the best pictures, thanks in part to his huge dimples that the camera loves. His favorite color is red. He also loves hats.