Ryland Lynch is the youngest member of the Lynch family. He is the DJ at R5's shows, and tours with them. He is sometimes referred to as the manager or the boss.
Ryland always knows what he wants and how to get it. He has great drive and a unique ability to get things done.
He's also a busy working child actor, having recently been featured in the latest Kids Bop commercial and video with Sean Kingston. Ryland was also a series regular in a current Nickelodeon show, The Fresh Beat Band.
Ryland has always taken the best pictures, thanks in part to his huge dimples that the camera loves. His favorite color is red. He also loves hats. Ryland is known to post frequently on his Snapchat (wylinryland).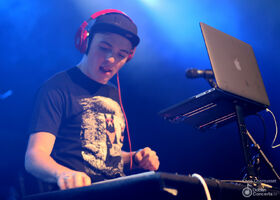 ° Fall Back In Love
° Take Me There (Feat. Daisy Guttridge)
Ad blocker interference detected!
Wikia is a free-to-use site that makes money from advertising. We have a modified experience for viewers using ad blockers

Wikia is not accessible if you've made further modifications. Remove the custom ad blocker rule(s) and the page will load as expected.